Meet the Team
Tin Huynh – China Academy of Chinese Medicine Sciences 2005, Board Advisory
Tin T. Huynh is a third generation Vietnamese & Chinese Traditional Medicine healer with a focus on acupuncture and herbal medicine. He holds a Doctor of Oriental Medicine degree issued by the China Academy of Chinese Medicine. He is honored to preserve and carry on his family legacy of 3 generations of acupuncture techniques and herbal medicine formulas.
Mr. Tin Huynh started Anna Health Family Wellness Center in Tampa, FL in 2014 focusing on acupuncture and herbal medicine. Growing up in a family that has over 100 years of Acupuncture and Herbal Medicine experience (Vietnamese & Chinese Traditional Medicine), Mr. Tin Huynh holds himself to the highest standard of quality and compassionate health care.
He believes our bodies are resilient and have the ability to heal itself and is very passionate about facilitating this healing process. The goal at Anna Health Acupuncture and Herbal Medicine is to provide individualized, patient-centered care to help manage illnesses, hard-to-treat disorders, and health concerns that have no clear definition or causes. And more importantly, we make healthcare accessible for everyone!
In addition to his private practice, he has served his community in a variety of capacities. After receiving his Doctor of Oriental Medicine degree at China Academy of Chinese Medicine Sciences in 2005, he chose to continue his training under the tutelage of his father Dr. Tam T. Huynh. Together they traveled to help thousands of patients in dire need of healthcare under the Green Bamboo Outreach Program. Look for them in Maryland, Virginia, Texas and Louisiana. From 2016-2018 while serving as Vice President of Vietnamese Community of Tampa Bay, the Anna Health team provided free-of-charge health care to the community on the third Sunday of each month.
Mr. Tin Huynh also has an extensive background in technology and software design. He holds a 3rd degree black belt in Vovinam Martial Art. In his spare time, he enjoys fishing and being with his family.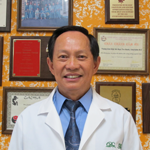 Tam Huynh, Pharm. D, A.P. - Vietnamese Traditional Medicine University, Board Advisory
Mr. Huynh Trong Tam is a second generation Oriental Medicine healer in the Huynh family with a focus on acupuncture and herbal medicine. He holds a Masters of Oriental Medicine degree in Vietnamese & Chinese Traditional Medicine credited by the Eastern Traditional Medicine University in Saigon, Vietnam. He is currently served as a guest acupuncture physician and a board adviser member at Anna Health Alternative Medicine – Acupuncture & Wellness.
Mr. Huynh Trong Tam is regarded as one of the East Coast areas' most respected and well-liked acupuncture physician. He has over 40 years of acupuncture experience and clinical work. In addition to practicing Oriental Medicine, he is also a Master in Vovinam Martial Art.
After graduating from the Saigon Pharmacology University and Vietnam Army Medical School in 1972, he answered his country's call to serve in the Vietnam War as a military hospital's general manager. Having served in the military and spent years in reeducation camp, Mr. Huynh Trong Tam came back to Kontum, Vietnam and followed his father's footstep to open a family medical clinic practicing Oriental Medicine and raised his family there. He was widely known as the "medicine man".
In the late 1970s and early 1980s, due to different political views, thousands of immigrants set sail for other countries with the hope for freedom and liberty. Among these people, Mr. Huynh Trong Tam and his family left their home and headed for America.
In America, Mr. Huynh Trong Tam was re-certified and started his career at York Hospital in Pennsylvania and then at Palms Pasadena Hospital, Humana Hospital and Medisave Pharmacy in Florida.
In 1995, Mr. Huynh Trong Tam started Green Bamboo Acupuncture and Herbal Medicine clinic in Charlotte, North Carolina. The clinic grew rapidly to become a well-known private Acupuncture and Herbal Medicine center among the Vietnamese community in the United States. The clinic treated well over 100 patients a day. Mr. Huynh Trong Tam also mentored and trained post graduates and medical doctors in using acupuncture techniques.
As a Doctor of Acupuncture, Mr. Huynh Trong Tam has touched the lives of many people in his community and around the world through his "Hands of Steel and Heart of Gold" program in Charlotte, NC. His work was later recognized and awarded by mayor Patrick Lloyd "Pat" McCrory, MAJ. GEN. Gerald A. "Rudy" Rudisill, Jr., and the governor of North Carolina, James B. Hunt, Jr in 1998.
In his leisure time, Master Huynh enjoys writing poems and songs, playing musical instruments and is also serving as an active judge at the World Congress of Vovinam Martial Art.
Dr. Phu Tran, DC, Acupuncture Certified
Dr. Phu Tran is a board certified chiropractic physician and a fellow of the International Academy of Medical Acupuncture. Dr. Tran received his Bachelor of Science degree from Nova Southeastern University and his Doctor of Chiropractic from National University of Health Sciences in Lombard, Illinois. At Anna Health, he works with patients of all ages and physical abilities, including professional athletes, offering a full range of care analysis, diversified and activator chiropractic adjustments, rehabilitation therapy, nutritional counseling, auto accident injuries and acupuncture treatments.
Dr. Tran is a strong advocate of a "whole person" approach to wellness. His treatments are individualized to meet each and every patient's needs. He is committed to assist his patients in achieving health goals and that means looking for underlying causes of any disturbance or disruption, which may or may not be the cause of symptoms at the time and make the necessary interventions. And he will take the time to ensure that his patients are satisfied with their care.
At Anna Health, we take a natural approach to healthcare and make it easy for the body to heal itself. From acupuncture treatments to chiropractic adjustments, we will sure find a technique that works for you!
Alex Smithers, MD, AP - CUM LAUDE Medical School
Alex Smithers holds a Medical Doctor degree from CUM LAUDE and a Masters of Oriental Medicine degree in Chinese Medicine and is licensed to practice Acupuncture in the State of Florida.
My name is Alex Smithers and I am an NCCAOM board certified acupuncture physician who graduated CUM LAUDE from Medical School in May 2016 with my M.D. I have taken both the United States Medical Licensing Exams Step 1, Step 2 CK and Step 2 CS.
I have decided not to pursue a residency at this time as the current Western Medical Model is antithetical to everything I know to be true at my core.
I am a Sarasota native and prior to matriculating into med school I worked as an acupuncture physician with another M.D. and D.C. in the field of regenerative medicine. I have done extensive training for the past 3 years at the American Osteopathic Association of Prolotherapy and Regenerative medicine. I have done thousands of injections using prolotherapy and prolozone with amazing results. I am looking for a holistic clinic that would be interested in including some of these therapies for the treatment of pain conditions in their practice. Acupuncture and Oriental Medicine work very well in conjunction with these therapies and I often combine the two by injecting into the biologically active points.
In addition I am passionate about herbal medicine and all forms of natural healing and I am proficient at treating all forms of chronic illness with emphasis on Autoimmune and Lyme patients. I have also trained in the use of systemic ozone therapy, Low dose Immunotherapy and Weber IV laser to name a few. I am a compassionate, authentic person with an evolved interpersonal intelligence. I look forward to serving you.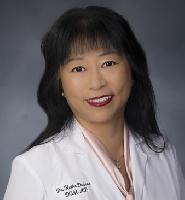 Dr. Keiko Dodson, AP, DOM - East West College of Natural Medicine
Dr. Keiko Dodson is a licensed, Board certified Doctor of Oriental Medicine (Acupuncture Physician). She earned her Master of Science degree in Oriental Medicine from East West College of Natural Medicine in Sarasota, FL. She has two bachelor degrees, one in Asian Philosophy and one in Professional Health Sciences.
Dr. Keiko, journey towards natural medicine began in her childhood. Born and raised in Japan, Dr. Keiko and her family used traditional herbal medicine such as Kanpo and Moxbustion as well as eating a nutritious and balanced diet for their health and well-being. This foundational approach influenced her career path as an adult.
In addition to her clinical training, Dr. Kieko completed an internship at Health South Rehabilitation Facility in Sarasota, FL where she assisted in the treatment of people with a variety of disorders and serious traumas. Currently, Dr. Keiko is expanding her knowledge and scope of practice in Functional Medicine and Japanese-style acupuncture.